The Chinese Consumer in 2022
---
"Generation Z" Chinese consumers display fundamentally different behavior as new sales channels, rising domestic brands and an increasing desire for self-expression have changed purchasing habits. But the growing elderly population is becoming an important consumer group as well! In this article we summarize the main characteristics about consumption in China you need to know.
---
---
Rising Purchasing Power in China
The annual disposable income of residents in China's urban areas has been constantly growing over the past decade: From on average around 2,500 EUR in 2010 to more than 5,500 EUR in 2020. Urban dwellers in tier-1 cities like Shanghai or Beijing have even more money to spent.
This disposable income is either funneled into savings or consumption, which has become a major growth driver for China's GDP. Consumers upgrade their purchasing behavior and are increasingly willing to spend money for quality or on premium brands. On the other hand however, expenses for living and raising children have also been skyrocketing (especially in large tier-1 cities).
---
Demographic Shift in China
A mix of social and economic developments including the one-child policy, rising wealth and mobility as well as urbanization have had a profound impact on China's population in the last decades: Life expectancy is rising, while marriage and birth rates are falling sharply. In 2020, the nation reached a new low of only 12 million new born babies per year. Meanwhile, there are already more than 160 million elderly in China - and the growing will keep growing. (see also our detailed Executive Briefing on this topic)
This dynamic has a fundamental impact also on consumption:
Smaller family sizes and single households have more income to spend on themselves, for example boosting demand for travelling, wellness, services or pets.
People above 60 years (the retiring generation that witnessed China's economy boom) will change from a currently under-served to an important consumer group. This will especially benefit services and the healthcare industry.
---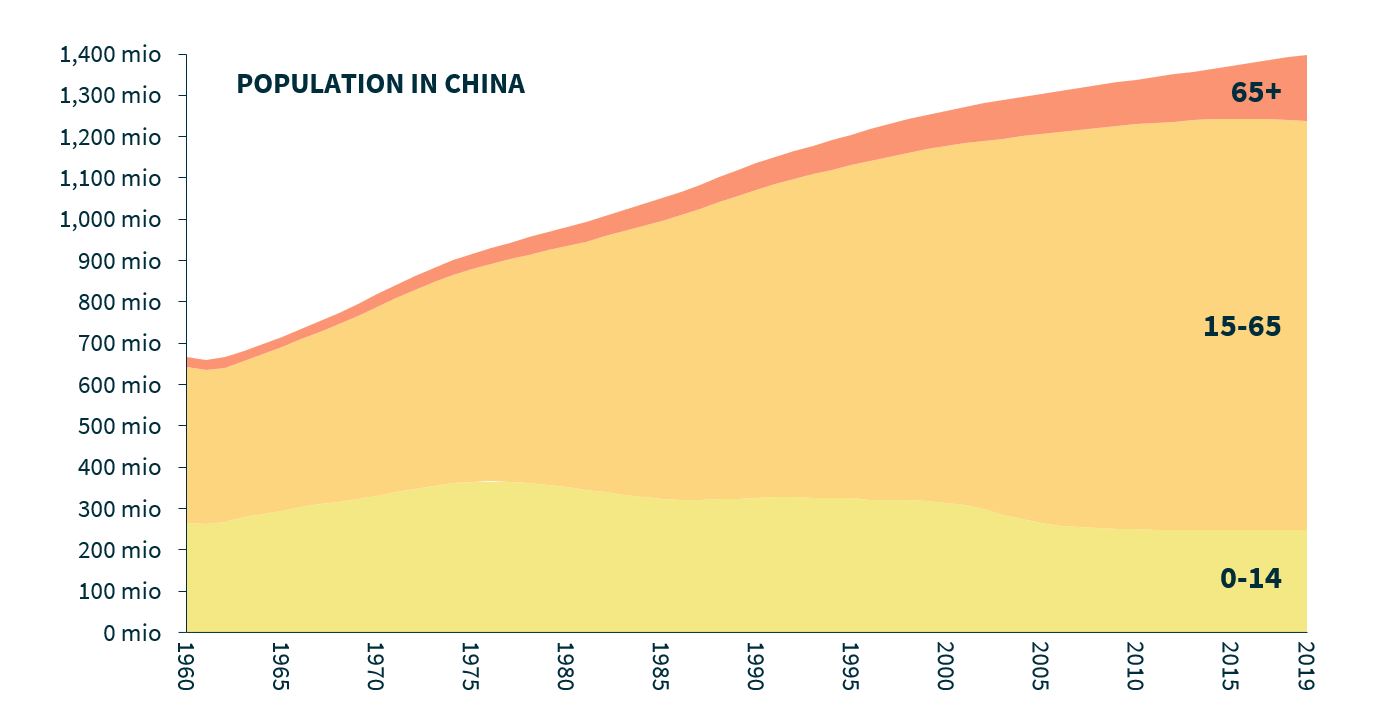 ---
Consumption Trends in China:
Digital-first & Online-offline Integration: more than 1 billion digital-savvy and mobile-first Chinese customers are increasingly defining how brands must operate their China business: digital-first. They research products online, shop on WeChat or DouYin, watch "teleshopping" (read our primer) and expect a seamless O2O integration. While China's e-commerce market is as big as France, Germany, Japan, UK and USA combined, offline retail is increasingly facing challenges.
Pre-purchasing Researcher & Importance of Influencers: Customers will actively investigate product parameters, understand the general rationale and performance expectation of the product, as well as diligently compare prices. But faced with overwhelming product options, Chinese consumers also increasingly turn to offline and online influencers (e.g. KOLs, live-streamers) to help make their purchase decisions.
Proponent of Domestic Products: Unlike older generations, post-90's customers are more willing to try Made-In-China products - not only in electronics and apparel, but also in other categories such as household goods. Buying Chinese brands is becoming a trend due to rising quality and increasing patriotic sentiments. (see also this article)
Individualization & Customization: Consumers desire to express themselves and their lifestyles in more unique ways. Younger customers tend to pursue products that meet their own tastes, and expect more interactive products.
---
---
Where does this leave foreign brands in 2022 and beyond?
The Chinese market will become even more dynamic and challenging. In the coming years, foreign consumer goods companies selling in China will have to strongly invest in their setup, their brand and in product localization. Only in this way will they be able to retain consumer attention, quickly adapt to market changes, and fight off domestic competitors.
_____________
For more information about Chinese consumers, also read our briefings on the direct-to-consumer trend, or on China's growing "silver generation".