ArMiD & EAC - Event "Incredible India"
---
This was the title of our event in Munich, which was organised in cooperation with ArMiD (Aufsichtsräte Mittelstand in Deutschland e.V.). There was enormous interest in the topic as well as in our insights, and so leading personalities from German business and industry discussed with us until late into the night.
---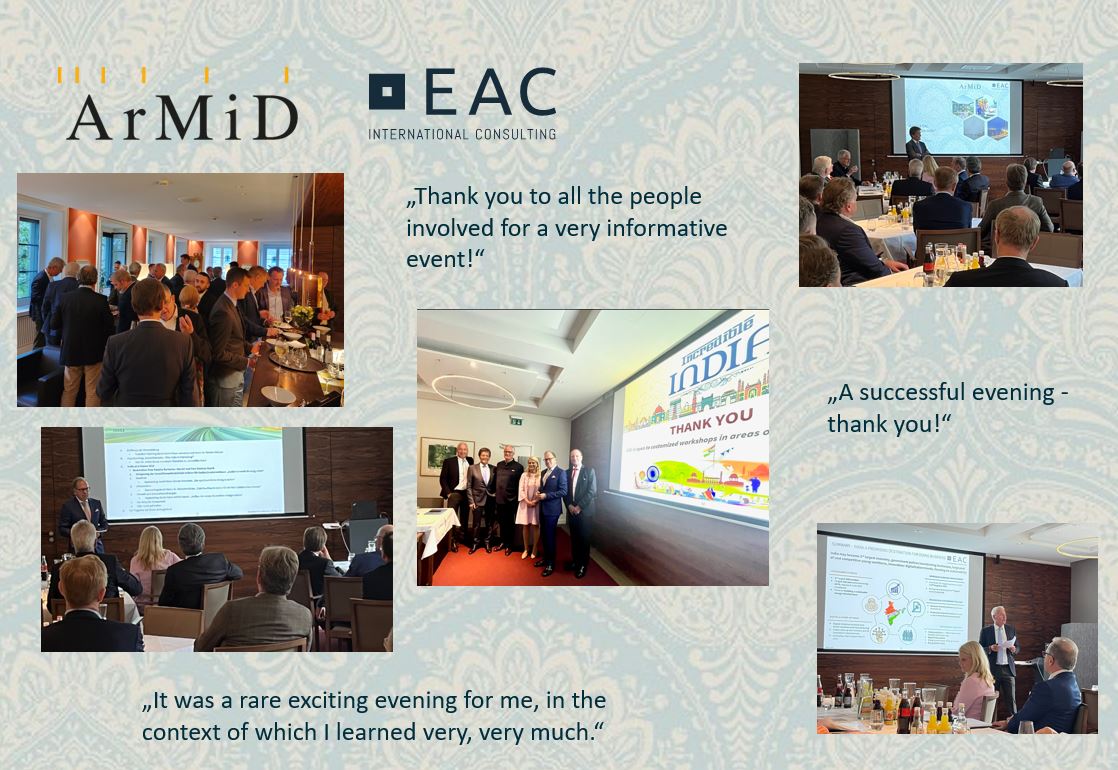 ---
The high level of interest is not surprising, as India is currently overflowing with superlatives:
A growth rate of 6.5
A EUR 3.3 trillion economy
FDI investments of EUR 78 trillion in 2021-22
The fifth largest economy by 2030, ahead of Germany and Japan.
With these fantastic prospects, India is attracting the interest of German companies.
But how can they profit from the Indian upswing?
At our event, renowned managers gave insights and outlooks as well as recommendations from their many years of experience in the Indian market.
Dr. Armin Bruck, former CEO Siemens ASEAN and India, gave a keynote speech on the topic of the evening. Siemens has recognised and seized the opportunity in the Indian market!
Günter Butschek, CEO CUBONIC and former CEO & Managing Director at TATA Motors- Automotive Industry India, spoke about his experiences in the Indian automotive sector.
Dr. Albrecht Köhler, CEO/Partner of Gesellschaft für Unternehmens- und Technologieberatung, former CEO of Schaltbau Holding AG & Managing Director of Knorr-Bremse AG, gave insights into the factory construction in North India for Knorr-Bremse AG.
Ashish Kumar, Managing Director Verbio India Ltd. & Board Member EAC India, revealed Verbio's ambitious plans for the future.
Our founders and partners, Daniela Bartscher-Herold & Dietmar Kusch, used realistic examples from the EAC clientele to explain how companies can take advantage of the Indian upswing.
Klaus Jaenecke, Chairman of the Board of ArMiD, hosted our guests through the evening together with Dr. Herbert Wörner, ex-CEO B/S/H/ and EAC Advisory Board Chairman.
Is your interest in India also aroused? Then contact us - we will be happy to help your company take advantage of the opportunities in India.